"One day you're gonna be stronger than anyone else in the world. Every evil you can imagine is gonna rise up against mankind. And not for justice, for vengeance...you're gonna be the future."
Season 1, also known as Volume 1, of Netflix's superhero series Jupiter's Legacy was released on May 7, 2021.
It was announced on July 17, 2018 that Season 1 of Netflix's superhero science fiction fantasy series Jupiter's Legacy was picked up for a season order.[1]
Synopsis
[
]
Jupiter's Legacy follows the story of "the world's first generation of superheroes, who received their powers in the 1930s. In the present day, they're the revered elder guard, but their superpowered children struggle to live up to the legendary feats of their parents".
Cast
[
]
Starring
[
]
Also Starring
[
]
Guest Starring
[
]
Crew
[
]
Episodes
[
]
NO. (SEASON)
IMAGE
TITLE
DIRECTOR
WRITER
AIR DATE
1
"By Dawn's Early Light"
Steven S. DeKnight
Steven S. DeKnight
May 7, 2021
Brandon's attempt to live up to his father's high expectations suffers a blow. Sheldon's carefree life as the boss's son comes crashing down in 1929.
2
"Paper and Stone"
Steven S. DeKnight
Henry G.M. Jones
May 7, 2021
Brandon and Chloe clash with their dad after the Blackstar incident. Sheldon confronts a reporter over an exposé on the family business.
3
"Painting the Clouds With Sunshine"

Christopher J. Byrne

Morenike Balogun Koch
May 7, 2021
Worried about Sheldon's uncharacteristic behavior, George pays him a visit. A foiled theft lands Hutch on the wrong side of a superpowered crime boss.
4
"All the Devils Are Here"
Christopher J. Byrne
Akela Cooper
May 7, 2021
With her partying spiraling out of control, Chloe nears rock bottom. Sheldon encounters hardship in his search for answers to the visions haunting him.
5
"What's the Use?"

Charlotte Brändström

Kate Barnow
May 7, 2021
Sheldon tries to assemble a dream team for his quest into the unknown. An autopsy unearths a puzzling object that connects to Chloe's new acquaintance.
6
"Cover Her Face"
Charlotte Brändström
Sang Kyu Kim
May 7, 2021
Grace sees first-hand how the Code is affecting the younger superheroes. Tempers flare aboard the ship as Sheldon forges ahead with his expedition.
7
"Omnes Pro Uno"

Marc Jobst

Julia Cooperman
May 7, 2021
The perilous final leg of their journey pushes Sheldon's ragtag team to the brink. Walter reaches out to a questionable source to extract information.
8
"How It All Ends"
Marc Jobst
Steven S. DeKnight
May 7, 2021
As Walter's situation grows dire, Sheldon and Brandon join forces in a do-or-die showdown with a supervillain. Hutch runs into trouble during a heist.
Production
[
]
Development
[
]
The first line Millar ever wrote on his notepad when brainstorming for the series was that "This has to be the greatest superhero story of all time" back in 2012. Eventually, when he started working on Jupiter's Legacy, he mentions how he and his wife just had their second baby and family stories were suddenly more interesting to him. It also made him realize that you don't see many stories about superheroes with kids. So he thought, "What would it be like if somebody as cool as Superman married somebody as amazing as Wonder Woman and they had kids?" and it was a fascinating dynamic for him. Not long after, he began writing scribbled scenes and Post-It notes for two full months, creating an entire universe of characters and how they all related to one another. Then in 2017, Millar and his wife Lucy sold Millarworld to Netflix. Their first priority was Jupiter's Legacy, and while initially they thought it be better to adapt it onto a movieNetflix afforded them the chance to make this adaptation as big and deep as it needed to be, so all those scribbled notes and Post-Its went onto become fully realised in the series that wouldn't need to be condensed into a three-act film.[5]

On July 17, 2018, it was announced that Netflix had given the production a series order for a first season. The series was created by Steven S. DeKnight, who is credited as an executive producer alongside Lorenzo di Bonaventura and Dan McDermott. On September 16, 2019, it was confirmed that DeKnight exited the series as showrunner over creative differences in the midst of the production for the first season.[6] On November 8, 2019, it was announced that Sang Kyu Kim has been named showrunner for the series.[7]
Casting
[
]
On February 11, 2019, it was announced that Josh Duhamel, Ben Daniels, Leslie Bibb, Elena Kampouris, Andrew Horton, Mike Wade and Matt Lanter would star in the series. On April 8, 2019, it was reported that Tenika Davis had been cast in a recurring role.
Filming
[
]
On July 2, 2019, Mark Millar announced via his Twitter account that production for the series began in Toronto, Ontario, Canada, directed by Steven S. DeKnight.[8][9] On January 23, 2020, Millar announced that they finished filming.[10] The series was filmed under the working title of "Zeus". There were many videos capture by fans.[11] In April 2020, Mark Millar provided an update on production saying that the FX work was continuing to make good progress.[12] On January 27, 2021, Andrew Horton posted on Instagram that they were doing reshoots for the series.[13]
Promotion
[
]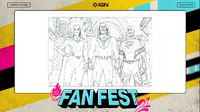 On February 3, 2021, it was announced on IGN website that Jupiter's Legacy was in their lineup for the two-day digital event of IGN Fan Fest on February 26 and 27, 2021. The panel boasted the exclusive first interview with Mark Millar and Josh Duhamel about the series. In this exclusive conversation, the fans got new details from Millar and Duhamel on how the expansive graphic novels jumped from page to screen in Netflix's new series. New character details, new plot details and an Easter egg from Frank Quitely, we're delivering answers on this superhero saga that has been years in the making.[14][15] At the digital event they released three exclusive sketches from the show by original comics illustrator Frank Quietly.[16]
On Friday, March 26th at 12:00PM PT, the cast of Jupiter's Legacy talked all about the making of, supersuits, and more at WonderCon@Home 2021.[17]
On May 1, 2021, Josh Duhamel was interviewed for Access. He talked about his sons input on his costume and teaming up with co-star Leslie Bibb for their second project in a row.[18] Josh Duhamel, Leslie Bibb, Matt Lanter, Ben Daniels, Elena Kampouris, Andrew Horton, Mike Wade, Tenika Davis, and Ian Quinlan were interviewed by Tara Hitchcock.[19]
May 5, 2021, Josh Duhamel went on The Tonight Show Starring Jimmy Fallon to promote the series and showed a short clip of the series.[20] Elena Kampouris, Andrew Horton, and Ian Quinlan were interviewed by Grace Randolph of Beyond The Trailer.[21] Mark Millar was interviewed by Grace Randolph of Beyond The Trailer.[22] Matt Lanter was interviewed by Grace Randolph of Beyond The Trailer. Matt Lanter and Ben Daniels were interviewed by Jeandra LeBeauf for Black Girl Nerds.[23]
May 6, 2021, Elena Kampouris was interviewed by Molly Harmon for TheThings, Elena revealed behind the scenes secrets and talked about pvercoming her fear of heights.[24] Josh Duhamel, Leslie Bibb, Ian Quinlan, Elena Kampouris, Andrew Horton were interviewed for Stream And Chill and talked about the series.[25]
Trivia
[
]
DeKnight who wrote and will direct the first episode, served as showrunner.[26]
According to Mark Millar, both the teaser and full trailer for Jupiter's Legacy exist, and he's already seen them both, he announced on September 14, 2020.[27][28]
On February 26, 2021 Netflix confirmed last week that Jupiter's Legacy will premiere in May, with the announcement being accompanied by a teaser.
On March 1, 2021 NXOnNetflix shared the first pictures from Jupiter's Legacy, giving fans their first proper look at the cast in costume. Additionally, Netflix shared a special "From Comic To Screen" teaser, which shows even more first look Jupiter's Legacy images taking shape as though they were drawn.[29]
On Wednesday, April 7, 2021 Netflix dropped the first trailer for Jupiter's Legacy.
On April 9, 2021, Steven S. DeKnight revealed that they were more or less halfway done with filming episode 8.[30]
On April 26, 2021, the official Twitter account for the series shared a promotional video that revealed some of the abilities that the characters have.[31]
On April 28, 2021, as part of National Super Hero Day, Matt Lanter shared some BTS images of his superhero/supervillain costume.[32]
On May 2, 2021, Mark Millar revealed that Liz Wolf was who designed the cool superhero costumes for the series.[33]
On May 4,2021 some BTS images for the first season were released.[34]
On May 5, 2021, Tenika Davis in an interview for Den of Geek said she viewed Petra as someone who is fiercely loyal and protective of the people she loves, and through the series she determines whether she's willing to pay the price of protecting her loved ones. Furthermore, Davis revealed that while her character doesn't exist in the comics, she asked a lot insurmountable amount of questions to discover as much as she could about Petra! Moreover, she couldn't help but gush over the costume, which is according to Davis was beautifully-crafted second skin that forces her to have better posture.[35]

Also on May 5, 2021, Josh Duhamel joked how at 48 years old, he thought that he was too old to play a superhero.[36]

On May 6, 2021, Matt Lanter mentioned how when it comes to the character he's portraying, he saw a lot of Tony Stark and a little bit of Jack Sparrow flair inside George Hutchence.[37]

Also on this day, David Julian Hirsh revealed that one of the takeaway after the season aired is that he is definately thinking seriously about getting into social media to interact with the fans more.[38]

On May 7, 2021, Mark Millar explained that Volume 1 essentially works as a an eight episode pilot that sets up teh rest of the story. They also paid homage to Godfather II in terms of how they chose to tell the story. This meant that instead of starting in 1929 and running chronologically, they used the 'Godfather II' structure of going back and forward. to tell the present day story, and The Union's origin story in 1929.[39]

Also on May 7, 2021, it was revealed by Ben Daniels and Matt Lanter that there were a few flashbacks of Walter and George that ended up being deleted and not included in the first season.In one, George actually invited Walter out to this party," Lanter shares. "Walter was clearly stressed out about his brother and George said, 'Come on out and party with me, I'll introduce you to this girl.' I really liked that scene, and I know Ben did too. I think we're both a little bummed we didn't see it because I do think that if you show a little relationship there prior, it kind of makes it a little sadder when you see that relationship deteriorate over the years".[40]
In addition, Wolf admitted that for herthe comics served as a road map. She not only felt the pressure to honor the original source material, but she aimed to create designs fit for the future. Thus, all the materials were customized. "I wanted to take everything to the next level, so we did a lot of printing and texturizing and experimental techniques to the fabrics," she says. Wolf wound up partnering with the developers of Nike's Flyknit, who have also worked with Yeezy and Tesla, to apply their 3D-engineered knitting strategy — which translates complex textural designs into single-piece footwear, to entire costumes. According to Wolf, the idea was to create sturdy and breathable outfits that were like a second skin for cast members including Kathryn Davis who portrays the superhero Phaseout and Tenika Davis, whose alter ego is The Flare II.[41]

On May 9, 2021, Mark Millar gushed about Matt Lanter in a tweet, in which he says that Matt is absolutely incredible. Moreover, that his opening in Painting the Clouds With Sunshine, the series third episode, which is possibly his favourite of the whole series. Especially that sequence where he heads down for his selection of eggs for breakfast![42]
On May 11, 2021, Lizz Wolf, who was the costume designer for the series revealed that Netflix and the series' showrunner saw value in the costume designer being an integral part of this world's development. The biggest reason being that on a show like this, costumes play such a major role.[43]
On May 12, 2021, Philip J. Silvera, who is regarded as one of the industry's hottest stunt choreographers, and one who is no stranger to superhero action was revealed to be part of the series' crew. Silvera went onto say that the eightepisodes in Season 1 of Jupiter's Legacy allowed him the space to stretch his choreographic legs. Silvera went as far as saying that "I believe the action on our show pushes the story and the characters forward, as much as it does on any of the other shows I've worked on in the past," Silvera says. "And I'm super excited to see what fans think of the storytelling, the nonverbal storytelling, that happens within our action sequences".[44]
On May 17, 2021, mentioned how in the comics, Brandon Sampson was a little more Gothic, and didn't have a superhero alter-ego as "Paragon," so for his TV appearance, a superhero costume had to be created from scratch. The costume designer explains that while the live-action Brandon is attempting to follow in his father's footsteps, Paragon could be an "interim" design that evolves into what people are used to from the comics. She also mentioned that for the tv show, the costume for The Flare II was also a completely new suit as well.[45]
On May 18, 2021, in an interview with The Boston Herald Matt Lanter revealed that Paul Newman was a big inspiration for him when it came to figuring how he wanted to approach the character of George. Lanter's reason was that to him,"Newman always looks like he's got a secret, and he's always a little smarter than the audience. I like that about his performances"[46]
On May 19, 2021, Stephen Oyoung who played Barry Bishop AKA Tectonic in Jupiter's Legacyrevealed in an interview with Looper that as an actor, stuntman, martial artist, and fight choreographer, he also did all his own stunts, a double duty role that took up a good chunk of time.[47]
Gallery
[
]
Images
[
]
Videos
[
]
References
[
]